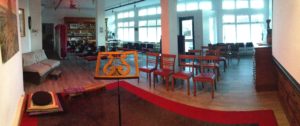 ---
 COMING
Digging into Poetry: A Workshop for New Work                                                          April 28, Sunday 1-4pm, Hosted by the Adirondack Center for Writing
Alan Simon & Friends (Stephanie Sears, Alex Marklund &  Clinton Green)          May 25, Saturday at 7pm $10
Electronic Music Summit:                                                                                                         June 15, Saturday $10                                                                                                                     7pm Jerod Sommerfeld                                                                                                               7:30 Famous Letter Writer                                                                                                      8pm Taylor Haskins                                                                                                                   8:30-9pm (break)                                                                                                                        9pm Pamelia Stickney                                                                                                                    9:30 Brian Dewan & Pamelia Stickney                                                                          10pm Figure to Ground
Lyle de Vitry and Eliza Edens                                                                                                 July 11, 7pm $10
Concetta Abate August 17
Dawson City, Frozen Time with film-maker Bill Morrison October 11
ONGOING:
Monday nights, 6–8:30pm
Life Drawing Sessions, clothed model, non-instructional
All welcome, please reserve and confirm seward.peter@gmail.com
$15 per session
PAST EVENTS:
Pamelia Stickney & Transcendental Dissonance Quartet       Animation: Lotte Reiniger's The Adventures of Prince Achmed                   Sarah Bernstein, violin; Stuart Popejoy, piano/keys; Danny Tunick, vibes/marimbas;  plus Brian Dewan, electronics.                                                Thereminist Pamelia's arrangements of Bartok, Ravel, Messiaen, Bach, & Boulanger.                                                                                                                         September 21st, Friday, 7:30pm $15
Vento Trio Woodwind chamber,  August 5th Sunday, 3pm, $10
Oliver the Crow debut album release, July 31st Tuesday 7:30pm $10
Double bill: Antonin Fajt & Concetta Abbate, July 26th Thurs 7:30pm $10
Triple bill: Dyado,  Partridge in the Pines, and Izaak Opatz   Folk, June 15th, Friday, 7:30pm, $10]
"Old in Art School"

book signing with Nell Painter,

June 17

, Sunday at 4pm
Alan Simon, Table recital, Indian potluck dinner

Saturday, 7:30pm $10

National screening of

Human Flow

, live webcast Q&A w/ film-maker Ai Weiwei,

April 29th

, Sunday 2:30pm, donation/free admission

Sweet Megg & the Wayfarers  New Orleans swing, Harlem swing, Parisian cabaret, and gut bucket blues, May 22nd, Tuesday, 7:30pm $15
Hugh Pool solo concert, with Steve Langdon, opening                                          March 24, Sat 7:30   $10 admission
---
J. Schnitt with John Doan, Kyle Murray, Colin DeHond & Redia Spada      January 26th, 2018, 7:30pm, Friday, $10
---
The Olympic Spirit and other winter-themed cartoon shorts                                    16 mm Film screening presented by Mark Ellis.                                                   February 2nd, 7:30pm, Friday, Donation


---

Figure From Ground                                                                                                                 electro-acoustic musical performance from Malone                                       February 3rd, 8:00pm, Saturday, $10


---

Welcome to the Big Time: Vintage Vaudeville on Film                                                  presented by Brooklyn-based video/film archivist Brother Russell Scholl   plus Brian Dewan's I-Can-See filmstrips                                                               February 3rd, Saturday, 7:30pm, Donation


---

The Year of the Dog: A Chinese New Year's Celebration                                          film screening, potluck, dog meet & greet                                                              February 16th, Friday, 5pm
Briga concert & record release of "Femme"                                                               Eastern-European folk via Montreal                                                                         Thursday, July 13, 7:30
Final Installment of the Bakery Concert Series, June 25                                       curated and hosted by Gene and Esther Rogers Baker, Classical, improvisational, and new music.
Pamelia Stickney

, virtuoso Theremin artist from Vienna! 

with Brian Dewan

. 

Electronic, improvisational, classical music,and original songs of Brian's. Friday, May 12, 7:30pm
The premiere of PINK-PINK, a 30 minute performance-piece by the Curtis Sisters. Post-performance mixer and Christian-rock dance party.Easter Sunday, April 16th, 4pm.
Sunday, February 5, 4pm Taylor Haskins' GREEN EMPIRE, jazz/Americana
Sunday, February 12th noon-5pm Sweetheart Jewelry Trunk Sale
Weds, February 15th 7pm Sandra Weber's "The Woman Suffrage Statue" book-signing
Friday, February 24, 7:30pm "The Joint is Jumpin!"Special guest film curator from Brooklyn, Russell Scholl, screens musical rarities both ecstatic and sublime.